We are so excited for Sara and Nick's wedding this weekend at Cypress Grove Estate House! And had so much fun at their engagement photo session at Leu Gardens where Nick proposed. It's so wonderful to have a bride and groom also be really, really wonderful friends <3
The proposal – in their words:
We're engaged! Here's how it happened.
The couple planned to celebrate Valentine's Day early since Nick would be traveling to California for work the following week. Nick surprised Sara by planning the entire day, but still she had no suspicions.
They started off enjoying brunch at one of Sara's favorite Winter Park eateries, Briar Patch. After a nice walk on Park Ave. they went to the Albin Polasek museum to enjoy a special harp exhibit and walk the beautiful garden grounds. For the first time ever Sara actually thought Nick might drop down on one knee while they were roaming the grounds. After realizing he was just messing with his cell phone, Sara had to calm her nerves and slow her heartbeat back down.
Next stop was Leu Gardens. The couple continued to enjoy the day walking through the rose gardens and even getting a peak at a wedding. Once Nick found themselves on a quiet and private pathway he stopped to ask Sara if she was enjoying the day. She said that she was and before she realized what was going on Nick was reaching for his pocket and lowering one knee to the ground. Sara asked, "what's happening" and Nick replied, "This is happening, will you marry me?" Sara was fumbling with her purse just standing there and immediately said yes! Nick stood up, placed the ring on her finger, and they hugged and kissed with tears of joy in their eyes.
They took a minute to reflect and remember what had just happened so fast. Nick said that he had planned to say more but it just came out! He had wanted to tell Sara that he did not want to go another Valentine's Day without her being his wife.
The day wasn't over just yet. They enjoyed a couple's massage at a nearby salon and then had a delicious Italian dinner in College Park. It was the perfect ending to a perfect day.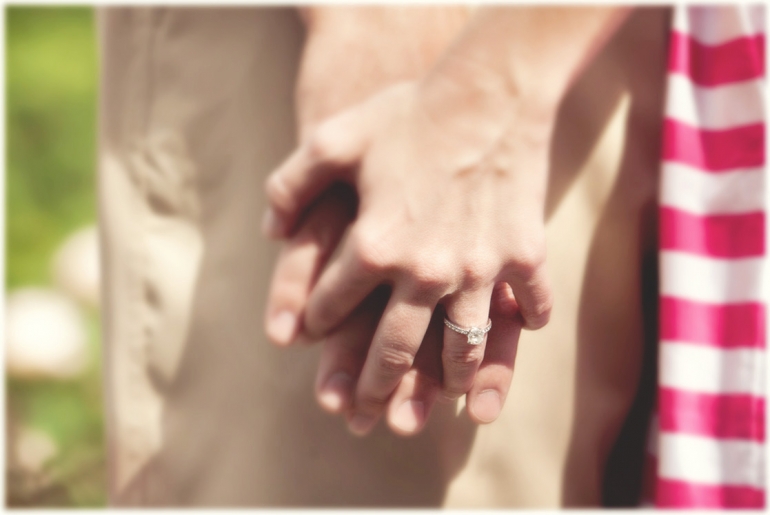 If you are looking for an Engagement Photographer in Orlando FL, please contact The Canovas Photography today! We look forward to hearing from you!